After a long wait, the Junior World Championships had finally arrived. Beforehand we had been planning, doing research, and tried to be prepared as possible for what might come at Kentucky Lake. The sun started to rise at Paris Landing State Park, we were on the water, ready to run to our first spot. Similar to what we do back home in Colorado, we fished bluff walls and long flats. Throughout the day we stayed along the same stretch of lake while catching a few keepers here and there. As day two arrived, we fished about the same spots as before but decided to try a few other places as well. After running around the lake for a couple of hours we decided that we were going to stick with our first plan.
Day one of the Junior World Championship, the nerves were going crazy and so was the wind. Around mid-morning I caught the first keeper, and then a little bit after that Ryan, my partner, caught the second. As the wind died down, the lake went flat, and the bite turned off. Day one's final weight was 4 pounds 2 ounces.
Day two was the qualifying day to be able to fish on the final day of the tournament. The bite was pretty slow early on. I was at the front of the boat, fishing some faster moving baits like crankbaits, and spinnerbaits, and my partner was in the back throwing some slower moving baits like a bitsy jig. After a couple hours we were not catching any fish so we decided that we should switch it up. I started throwing the bitsy jig and caught 3 keepers. Then Ryan swooped in and caught a good keeper, and I finished off the day by catching two more. Our final weight for Day two was 9 pounds 11 ounces. With that weight we won the Western Division and qualified for the last day!
On day three, we had the same plan except one thing: we noticed we caught the most fish on the one particular flat that extended into the opening of a cove. The fishing might be slow, but we knew if we caught them, they would be a good size. Right after we got to our spot, I cast out a couple times and got nothing. Fourth cast I got our biggest fish, a 3-pound 7-ounce small mouth. After a well-deserved happy dance, I knew this was going to be a great day. But soon after, the rain began, and the bite stopped.  Several hours later, the rain let up, and Ryan caught three great sized keepers. Then I closed off the day with our last keeper sealing the deal. Our final weight for day three was a whopping 12 pounds and 5 ounces, beating the second-place team by over 5 pounds.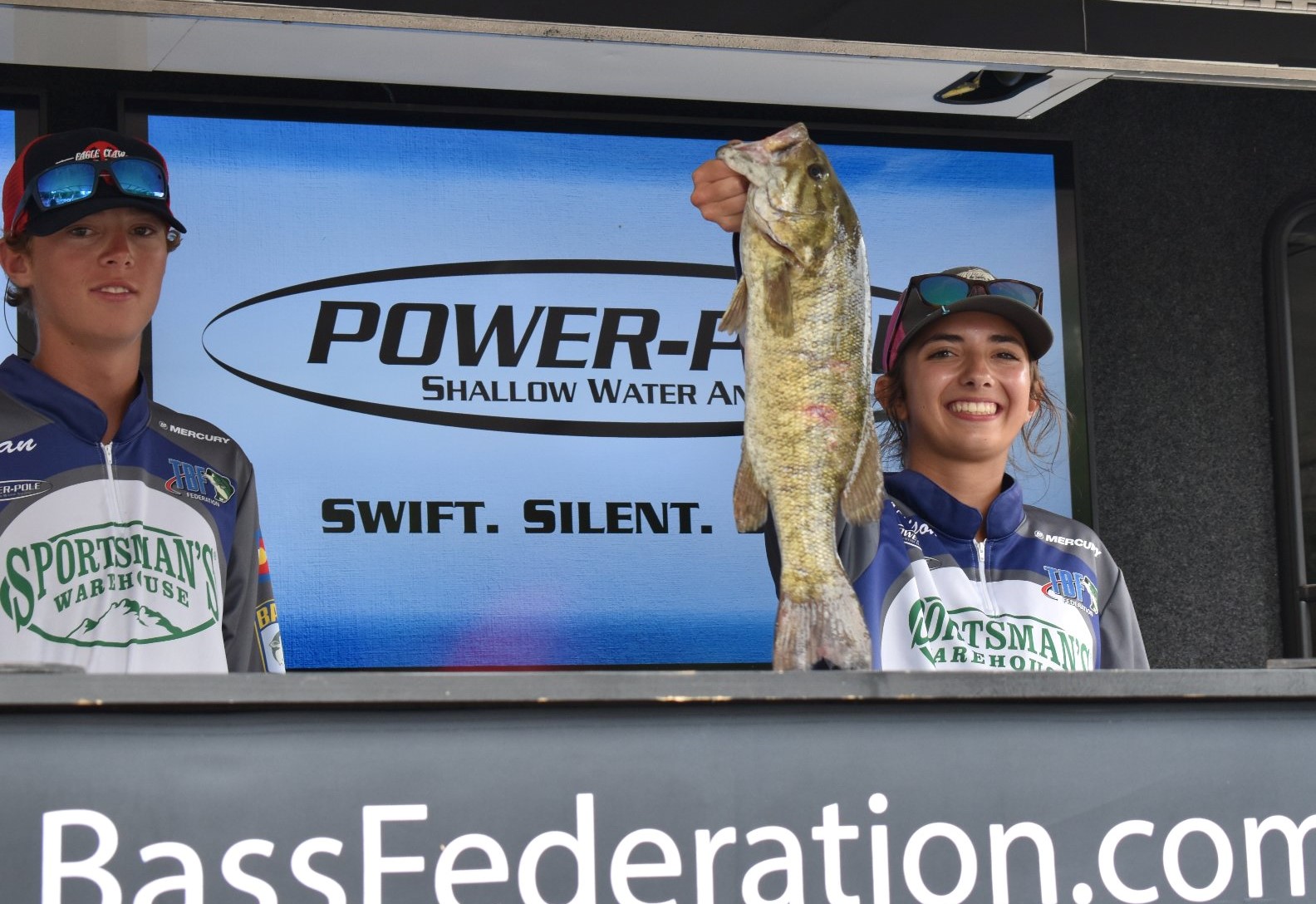 Just like that my partner and I made history. The first ever co-ed team to win, the first female to win, as well as Ryan being the first ever person to win two Junior World Fishing Championships!  I can't thank everyone enough who has helped me get to where I am today. I am truly so blessed to be a part of this organization and to have this opportunity.
Madison Robertshaw
2022 TBF Junior World Championship Team